Miguel Pinedo-Vasquez, Director of International Programs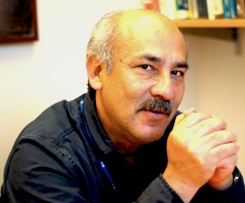 Miguel Pinedo-Vasquez is the Earth Institute Center for Environmental Sustainability's director of international programs. He is a native of the Peruvian Amazon and an expert on conservation and resource management, particularly among smallholder farmers and foresters in the tropics.
Pinedo-Vasquez's work focuses largely on issues related to agrodiversity and the impact of resource and land-use systems on landscapes and ecosystems. He is one of the initiators of the worldwide program entitled People, Land and Environmental Change that focuses on biodiversity-rich systems of agriculture, agroforestry and forestry as well as conservation practices around the humid tropics. More recently, Pinedo-Vasquez has published several scientific and policy-oriented articles on the impacts of urbanization and climate change on the livelihoods and environments of rural people in Amazonia and other tropical regions.
Pinedo-Vasquez is also an adjunct professor in the departments of Evolution, Ecology and Environmental Biology and Anthropology at Columbia University.