Location and Directions
The Earth Institute Center for Environmental Sustainability
Schermerhorn Extension, 10th Floor
Columbia University, MC 5556
1200 Amsterdam Avenue
New York, NY 10027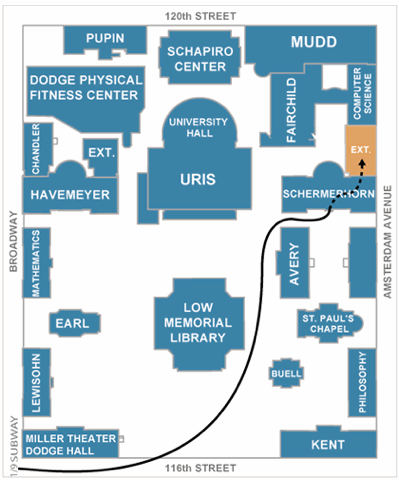 Tel: 212-854-8179
Fax: 212-854-0640
E-mail: eices@columbia.edu
Via Campus Main Entrance—Broadway at 116th Street Gate
Take the 1 train or the M4, M104 or M60 bus to 116th Street and Broadway. Enter the gates to campus (map of campus on the wall as you enter). Walk along the cobblestone pathway across campus. You will see a large domed building on the left at the top of the marble stairs (Low Library). Walk up the stairs and around the building on the right side. You will pass a small brick building, a brick chapel and then Avery Hall on your right. Past Avery Hall, set back a bit, is Schermerhorn Hall. Go in and turn right down the winding hallway. (Do NOT use the elevator directly opposite the front door—it only goes to the ninth floor.) Follow the hall until you reach a second set of elevators. Take these to the EICES offices on the 10th floor.
OR
Via Amsterdam Avenue—119th Street Entrance
Take the M11 bus on Amsterdam Avenue and get off at 118th Street or take the M60 to 122nd Street and Amsterdam. Walk to 119th Street and Amsterdam and enter through the driveway entrance on the west side of the street. There is a security guard booth outside. Enter the building using the first door on your left, just inside the driveway entrance. Go down three steps, walk to the end of the hallway and take the elevators on your left to the EICES offices on the 10th floor.