Shahid Naeem, Director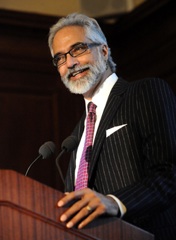 Shahid Naeem is the Earth Institute Center for Environmental Sustainability's director. He oversees the development of research science programs that benefit from the combined resources of the Consortium for Environmental Research and Conservation. For example, he is currently leading center partners to actively develop programs for adapting conservation to climate change, which requires basic research in partnership with institutions that study the diversity of plants and animals, and is engaged in conservation activities around the world.
Naeem studies the ecological and environmental consequences of biodiversity loss. He is interested in how changes in the distribution and abundance of plants, animals and microorganisms affect ecosystem functions and, by extension, how ecosystem services are affected. His current fieldwork includes American northeastern deciduous forests, Inner Mongolian grasslands in China and African agro-ecosystems. He is actively involved in bringing the science of biodiversity and ecosystem function to conservation, restoration and policy development. He is author, co-author and editor of over 100 scientific publications and co-chaired the UN Millennium Assessment's Biodiversity Synthesis Report published in 2005.
Naeem is also a professor of ecology in Columbia University's Department of Evolution, Ecology and Environmental Biology. He received his Ph.D. from the University of California, Berkeley; was a postdoctoral fellow at Imperial College of London, the University of Copenhagen and the University of Michigan; and served on the faculties of the University of Washington and the University of Minnesota before coming to Columbia in 2003.