SEE-U Agro-eco/Food Systems
New York City | Hudson and Harlem Valleys
6 credits, 6 weeks
Summer 2017 (July 3rd–August 11th)
SEE-U NYC: Agro/Food Systems, An Immersive Educational Experience in Agro-eco and Food-system Environmental Biology
Perhaps the single most pressing challenge humanity faces this century is how to sustainably produce and distribute food to an ever growing, increasingly urbanized population. Nearly two-thirds of the ecosystems of the world have been converted or are managed to provide food, fuel and fiber for our current population of 7.2 billion people.  Over 44 percent of land in the U.S., for example, is already under cultivation, yet over 12 million children in our country suffer from hunger and one in seven households suffer from food insecurity. By 2050, another two to three billion people will join our population, the majority of them living in urban environments, and considerable research and debate surrounds whether we can sustainably feed humanity without jeopardizing environmental sustainability.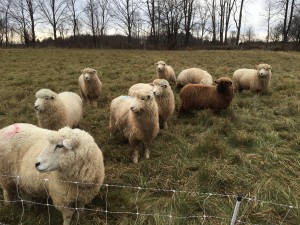 Food is a complex, interdisciplinary, and extraordinarily fascinating topic.  It is not just about farming and calories, but about production, packaging, storing, distributing, and insuring health and safety.  It is about history, tradition, cultural preferences and dietary choices.  It's about markets, economies, and policies.  Whether picking up food from a food truck or dining at a five-star restaurant, shopping online or in a high end supermarket, preparing fresh food or eating processed foods, the choices and decisions we make about food have consequences that extend beyond our individual health and well-being to local, regional, and global environmental sustainability.
SEE-U Agro/Food Systems provides an in-depth examination and analysis of agro-ecosystems, from community gardens to global markets.  The course makes use of the extraordinarily diverse array of farms and food systems in New York City and its surrounding environs.  Lectures review the natural and social science foundations of ecosystem ecology and conservation, but focus specifically on agro-ecosystems, including farms, rooftop operations, pastures, grazing lands, orchards, and plantations.  The material also covers food systems, or the "food to fork" pathways from growing to harvesting to processing to packaging to transporting to marketing to consuming, and includes recycling, composting, and waste disposal.  Structured as an immersive summer class, SEE-U Agro/Food Systems couples weekly lectures at Columbia University's Morningside Campus with field excursions and exercises to bring the material to life.  Every week we will conduct field trips to urban farms, small rural and peri-urban farms, and local food purveyors and distributors to get a comprehensive look at the local agro/food systems of New York City and its surrounding environs.
2016 Syllabus: Agro/Food Systems Course Syllabus (PDF)
2016 Day-by-Day Schedule: Agro/Food Systems Course Schedule